2023 Hyundai Aura 1.2 liter Bi-Fuel
The 2023 Hyundai Aura is a compact sedan that has made a significant mark in the automotive industry. Launched by the South Korean automaker Hyundai, the Aura combines style, performance, and advanced features to create a compelling package for car enthusiasts.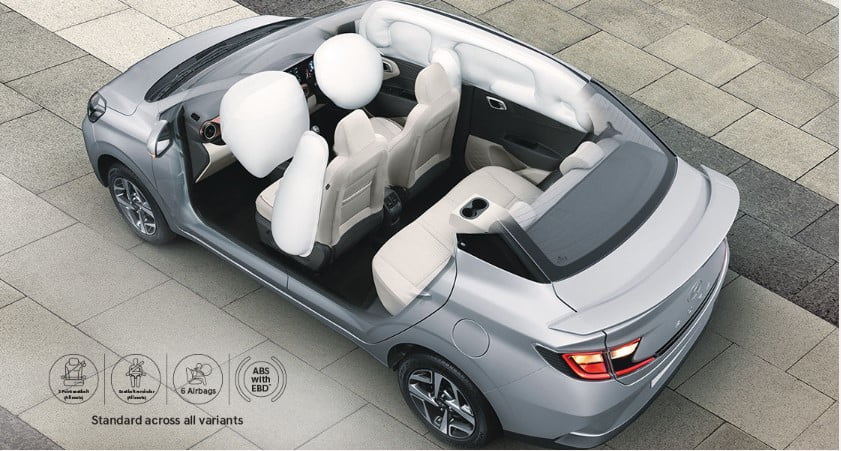 2023 Hyundai Aura Exteriors
One of the standout features of the Hyundai Aura is its exterior design. The car boasts a modern and dynamic look that distinguishes it from its competitors. With its sleek lines, bold front grille, and stylish headlights, the Aura exudes a sense of sophistication and elegance. The attention to detail in the exterior design reflects Hyundai's commitment to creating visually appealing and aerodynamically efficient vehicles.
2023 Hyundai Aura Engine
Under the hood, the Hyundai Aura offers two engine options to cater to different driving preferences. The one engine is the 1.2 liter Kappa Mt, Amt Petrol and the other one is the 1.2 liter Bi-fuel CNG Petrol is designed to deliver a balance of power and mileage. The Bi-Fuel (CNG-PETROL) engine produces 69PS power and 95.2NM of torque and the petrol engine with 83ps and 113.8NM of torque. Whether you're navigating city streets or cruising on the highway, the Aura's performance capabilities make it a versatile choice for various driving conditions.
2023 Hyundai Aura Interiors
2023 Hyundai Aura provides a comfortable and well-appointed space for both the driver and passengers. The interior design reflects Hyundai's focus on creating a premium feel, with quality materials and ergonomic design. The seats are designed for optimal comfort during long drives, and the cabin is equipped with modern features to enhance convenience and entertainment. Technology plays a significant role in the Hyundai Aura's appeal.
The 2023 Hyundai Aura comes equipped with an advanced infotainment system that includes a touchscreen display, smartphone connectivity, and a premium sound system. The intuitive controls and user-friendly interface make it easy for drivers to access various functions without distraction.
2023 Hyundai Aura Features
Advanced Safety Features: Safety is a paramount concern, and the Hyundai Aura typically comes equipped with safety features such as 6airbags across all variants, Anti-lock Braking System (ABS), Electronic Brakeforce Distribution (EBD), and a strong body structure to enhance occupant protection in case of a collision.
2023 Hyundai Aura is designed with comfort in mind. The seats are ergonomically designed, providing support during longer journeys. Additionally, some models may feature adjustable seats and lumbar support for the driver.
The Hyundai Aura comes equipped with a cutting-edge infotainment system that typically includes a touchscreen display. This system integrates seamlessly with smartphones, offering features such as Apple CarPlay and Android Auto. The intuitive interface allows for easy navigation and access to various entertainment options.
2023 Hyundai Aura often comes with integrated controls, allowing the driver to manage various functions without taking their hands off the wheel. This includes audio controls, phone controls, and sometimes even cruise control. The Aura often features Bluetooth connectivity, enabling hands-free calling and audio streaming. USB ports and auxiliary inputs are also commonly included, ensuring compatibility with a variety of devices.
2023 Hyundai Aura offers keyless entry, allowing drivers to unlock and start the car without taking the key fob out of their pocket. A push-button start system further streamlines the ignition process. Also includes an automatic climate control system that allows occupants to set their preferred temperature, ensuring a comfortable environment inside the cabin.
2023 Hyundai Aura Dimension
Hyundai Aura typically spans around 3995 mm. This dimension positions the Aura well within the compact sedan category, making it a suitable choice for urban commuting while providing enough cabin space for occupants. The width of the Hyundai Aura is approximately 1680 mm and the wheelbase measures 2450 mm offering a ground clearance of approximately 165 mm. As for the height, the Hyundai Aura stands at around 1520 mm. The luggage capacity is usually around 402 liters, providing ample room for groceries, luggage, or other belongings.
This measurement contributes to the car's stability on the road and provides sufficient shoulder room for occupants inside the cabin. The well-proportioned width enhances the overall handling of the vehicle, ensuring a balanced and confident driving experience.
2023 Hyundai Aura Price
2023 Hyundai Aura 1.2L petrol E variant price starts from Rs 643700 Ex-showroom and Cng Base Variant from Rs 822800, and the on road price varies from State to State RTO.
2023 Hyundai Aura Reviews
In summary, the Hyundai Aura's dimensions are carefully crafted to deliver a well-balanced combination of style, maneuverability, and comfort. Its compact size makes it suitable for urban environments, while the thoughtful interior dimensions ensure that both driver and passengers can enjoy a comfortable ride. Whether navigating city streets or embarking on a road trip, the Hyundai Aura's dimensions contribute to a satisfying driving experience.
The Hyundai Aura is a feature-packed compact sedan that caters to the needs and desires of modern car enthusiasts. From advanced technology to thoughtful conveniences, the Aura incorporates a range of features that enhance both the driving experience and overall comfort.