Triumph, an iconic British brand with a storied history dating back to 1902, has been crafting exceptional motorcycles for over a century. Renowned for their blend of classic design, cutting-edge technology, and powerful performance, Triumph motorcycles have earned a special place in the hearts of riders worldwide.
One of the standout models in Triumph's lineup is the Triumph Bonneville, a name synonymous with classic British motorcycles. The Bonneville series combines timeless aesthetics with modern engineering, offering riders a nostalgic yet exhilarating experience on the road. From the Bonneville T100 to the Thruxton and Scrambler, this series pays homage to its heritage while delivering contemporary performance and reliability.
For those seeking a more aggressive and sporty ride, the Triumph Street Triple series provides an adrenaline-packed experience. With its nimble handling and potent engines, it's a favorite among enthusiasts who crave dynamic street riding. The Street Triple's versatile range includes models like the S, R, and RS, catering to various riding preferences.
Adventure riders find their match in the Triumph Tiger series, designed to conquer both on and off-road terrains. These rugged and capable motorcycles offer a sense of exploration and freedom, whether you're touring the open highways or tackling challenging trails.
For those who demand sheer power and presence, Triumph's Rocket 3 stands out as a true heavyweight contender. Boasting the world's largest production motorcycle engine, it combines monstrous torque with advanced technology for an unmatched cruiser experience.
The Triumph Speed Twin adds a touch of modernity to classic styling, blending timeless design cues with a responsive engine and contemporary features. It's a perfect choice for riders who want both style and substance.
It continue to push boundaries and innovate, ensuring that each model they produce carries the legacy of British craftsmanship and precision engineering. With a commitment to quality, performance, and heritage, Triumph remains a revered name in the world of motorcycles, offering riders the thrill of the ride and the pride of ownership in every twist of the throttle
This year Triumph Motorcycles has introduced its budget-friendly offering in India, the Speed 400. Familiarly referred to as the Triumph 400 by enthusiasts, this bike will be proudly produced by Bajaj Auto in Maharashtra, India, and it enters the market with a competitively attractive price point of Ex-showroom Rs 2,33000.
Speed 400 Features
The 2023, Triumph 400 offers features comparable to its competitors. It includes LED lights, a combined digital-analog instrument display, advanced throttle control, adjustable traction, dual ABS, and built-in theft protection. The dashboard showcases speed, fuel levels, and gear status. The structure combines tubular steel and an aluminum swingarm. It uses 43mm front forks and an adjustable rear shock for suspension. The brakes include a 300mm front disc and a 230mm rear rotor, with the bike weighing in at 176kg.
Speed 400 Engine Specification
| | |
| --- | --- |
| Capacity | 398.15 cc |
| Type | Liquid-cooled, 4 valve, DOHC |
| Cylinder | Single-cylinder |
| Bore | 89.0 mm |
| Stroke | 64.0 mm |
| Compression Ratio | 12:1 |
| Power | 39.5HP@8000 RPM |
| Torque | 37.5HP@6500 RPM |
| Gear-Box | 6 Speed |
| Clutch | Wet, multiple, Slipper Clutch |
| ECU | Bosch electronic fuel injection with electronic throttle control |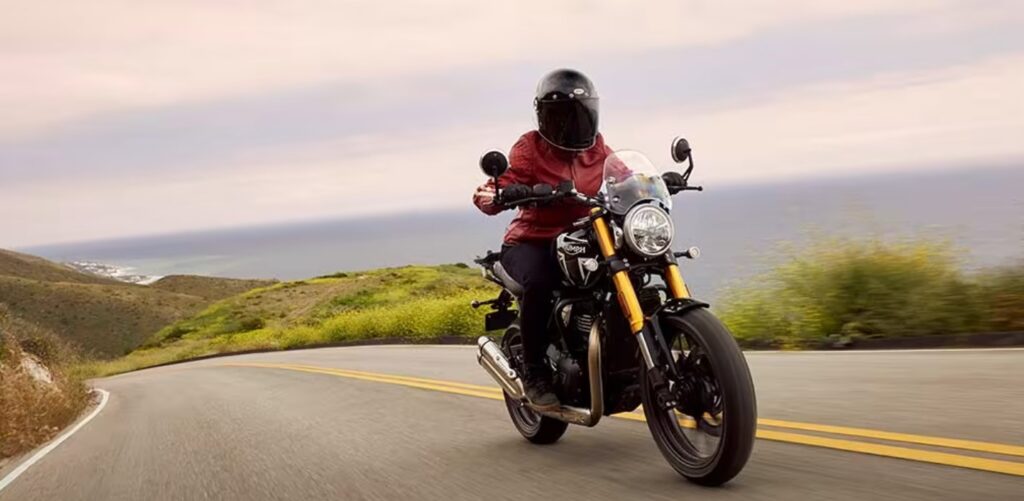 Speed 400 Overview
Designed to pay homage to Triumph's heritage while incorporating cutting-edge engineering, the single-cylinder TR-series engine is meticulously crafted to deliver a power delivery that's not only responsive but also brimming with character. It sets new standards for performance within its class.
With a comfortable and engaging riding position, featuring a low seat height, paired with a dedicated roadster chassis, top-notch suspension, and brakes, the Speed 400 embodies Triumph's hallmark agile and confidence-inspiring handling. This means riders of all skill levels can fully exploit the dynamic performance of the Speed 400 claiming a top speed of 148km/hr.
It exhibits the exceptional finish and meticulous attention to detail that defines every Triumph Modern Classic. From the distinctive black powder-coated engine casings to the lustrous paint finish, the Speed 400 unmistakably represents Triumph's commitment to a truly premium Modern Classic experience.